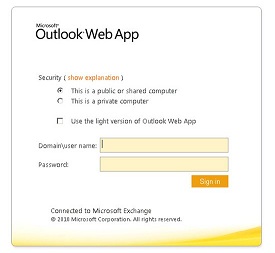 Podczas instalacji SP2 w organizacjach z duża ilością serwerów  CAS porozrzucanych  po różnych lokacjach , lub w środowisku mieszanym Exchange 2007 /2010 . Może wystąpić problem przy proxy-owaniu połączeń OWA pomiedzy CASami.
W przypadku gdy serwery Exchange 2010 z rolami CAS podniesiemy do SP2 i wykorzystujemy je do przekazywania połączeń  do serwerów z SP1 lub Exchange 2007 , może występic problem z  połączeniami OWA dla użytkowników ze skrzynkami obsługiwanymi przez serwery CAS ze starszymi wersjami.
w Logu aplikacyjnym znajdujemy błędy:
Event ID: 4999
Log Name: Application
Source: MSExchange Common
Task Category: General
Level: Error
Description: Watson report about to be sent for process id: 744, with parameters: E12, c-RTL-AMD64, 14.02.0283.003, OWA, M.E.Clients.Owa, M.E.C.O.C.ProxyUtilities.UpdateProxyUserContextIdFromResponse, M.E.C.O.Core.OwaAsyncOperationException, 413, 14.02.0283.003.