Dopiero co zakończył się TechEd North America 2013, a już dzięki Channel9 możecie oglądnąć sesje, które się tam odbyły.
Poniżej przedstawiamy sesje dotyczące Microsoft Exchange 2013:
Understanding Compliance in Microsoft Exchange, SharePoint, and Office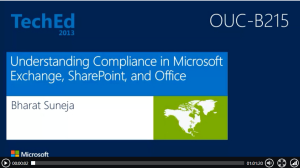 Bharat Suneja
Organizations are increasingly in need of solutions that help them to meet compliance requirements and protect information. Come learn about our overall Office-wide investments in Compliance in Exchange, SharePoint, Lync, Excel, etc.
Download High Quality MP4    High Quality WMV
Microsoft Exchange Server 2013 Managed Availability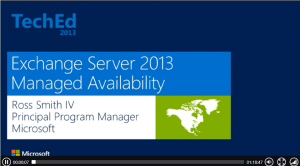 Ross Smith
In this session, learn about managed availability. With managed availability, internal monitoring and recovery-oriented features are tightly integrated to help prevent failures, proactively restore services, initiate server failovers automatically, or alert administrators to take action. The focus is on monitoring and managing the end user experience rather than just server and component uptime to help keep the service continuously available.
Download: High Quality MP4    High Quality WMV