This post is also available in: Polish
Last time we metion about Service Pack 1 for Microsoft Exchange 2013.
Below we present new features and improvements included in Service Pack 1:
Exchange Admin Center Command Logging
Finally Exchange 2013 will "tell" you how to use Powershell.
Like in Exchange 2010 EMC now in Exchange 2013 SP1 EAC you can see Powershell command for operation which was made in EAC.
The feature can be found in the top-right corner of the EAC, when clicking the question mark button, select Show Command Logging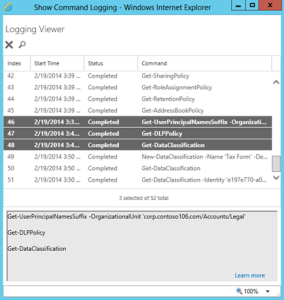 You can see up to 500 command executed in the EAC user interface.
Support for Windows Server 2012 R2
Exchange 2013 SP1 adds Windows Server 2012 R2 as a supported operating system and Active Directory environment for both domain and forest functional levels.
Better text editor in OWA
In OWA Exchange Team added rich text editing features. Now you can easly add or modify tables, more paste options, previews to linked content.
S/MIME support for OWA
S/MIME is back with Exchange 2013 SP1. Users can again send and receive signed and encrypted emails.
Edge Transport Server Role
This server role is reintroduced with SP1. It isn't not so much deployed server role but it's important in hybrid deployments.
DLP
With SP 1 in OWA you will get Policy Tips for DLP, it's finally added and now you don't have to use Outlook to see DLP Policy Tips.
DLP allows you to detect whenever sensitive data is being sent and take appropriate actions if so.
As mentioned above, DLP allows you to detect whenever sensitive information is sent via email. However, detecting sensitive information isn't always easy. Until now, you had to build (complex) Regular Expressions which would then be evaluated against the content being sent through Exchange. With the DLP Fingerprinting feature, you can now upload a document to Exchange which will then use that document as a template to evaluate content against.
MAPI/HTTP
SP1 introduces new connectivity model between Exchange 2013 SP1 and Outlook 2013 SP1. Now you can use MAPI/HTTP instead RPC/HTTP.
This communication method simplifies connectivity troubleshooting and improves the user connection experience with resuming from hibernate or switching networks.
This feature is disabled by default and to enable it just run below command:
Set-OrganizationConfig –MapiHttpEnabled $true
DAG without IP
Windows Server 2012 R2 introduces failover clusters that can operate without an administrative access point: no IP addresses or IP address resource, no network name resource, and no cluster name object. SP1 enables you to create a DAG without an administrative access point on Windows Server 2012 R2 from EAC or PowerShell. This is an optional DAG configuration for SP1 and requires Windows Server 2012 R2. DAGs with administrative access points continue to be supported
As you can see SP1 for Exchange 2013 brings back some great features from Exchange 2010 and it gives you some new features by supporting Windows Server 2012 R2.
Jak można zauważyć wydanie Service Pack 1 miało na celu przywrócenie funkcjonalności dostępnych już w Exchange 2010, które to zostały wycofane w Exchange 2013, a o które najbardziej upominały się osoby administrujące Exchange 2013.
Również dzięki wspieraniu systemu Windows 2012 R2 mamy do dyspozycji pare nowych ciekawych funkcjonalności udostępnianych własnie przez ten system.