When you want to find something in Microsoft Outlook you can use Search Bar.
To do this press Ctrl+E or just click in Search Bar.
The search bar in the new Microsoft Outlook 2013 allows us to select items in search:
current mailbox
current folder
subfolders
all mailboxes
all Outlook items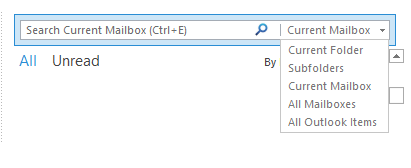 But in Microsoft Outlook you can use more options which will help you to find something.
You have to just write specified query in search box.
like:
messagesize:>5mb – find all messages which size is more than 5MB.
subject:"some subject" – find all messages with subject some subject
also you can use logical operators like AND, NOT, OR, <, >, = to refine your search.
Remember: Logical operators must be typed in uppercase letters.
More examples of search criteria can be found below in table: