This post is also available in: Polish
Today 04/02/2013 Microsoft released CU1 for Microsoft Exchange 2013
Cumulative Update 1 for Microsoft Exchange 2013 can be downloaded here: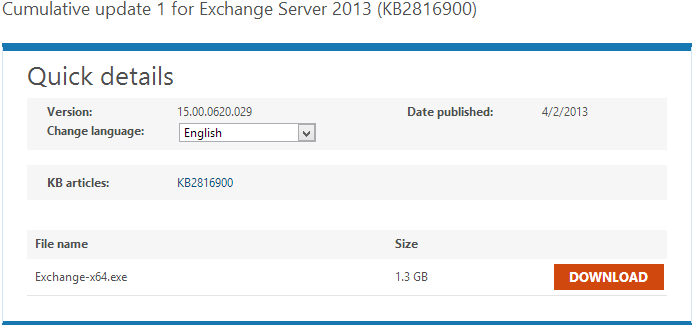 Description of Cumulative Update 1 for Exchange Server 2013
CU1 for Microsoft Exchange 2013 is the last step for Exchange 2013 and Exchange 2010 SP3 coexistence.
Unlike previous versions, cumulative updates do not use the rollup infrastructure; cumulative updates are actuallyfull builds of the product, meaning that when you want to deploy a new server, you simply use the latest cumulative update build available and do not necessarily need to apply additional Exchange Server updates.
Prior to upgrading or deploying the new build onto a server, you will need to update Active Directory. For those of you with a diverse Active Directory permissions model you will want to perform the following steps:
Exchange 2013 RTM CU1 includes schema changes. Therefore, you will need to execute setup.exe /PrepareSchema.
Exchange 2013 RTM CU1 includes enterprise Active Directory changes (e.g., RBAC roles have been updated to support new cmdlets and/or properties). Therefore, you will need to execute setup.exe /PrepareAD.
Exchange 2013 RTM CU1 includes changes to the permissions within the domain partition (e.g., Exchange Servers have been granted the ability to modify msExchActiveSyncDevices class on inetOrgPersonobjects). Therefore, you will need to execute setup.exe /PrepareDomain in each domain containing Exchange servers or mailboxes.
As mentioned in the Exchange Server 2013 CU1 release notes, when you deploy the first Exchange 2013 Mailbox server in an existing Exchange organization, a new default Offline Address Book is created.
All existing clients that rely on an OAB will see this new default OAB the next time they look for an OAB update. This will cause these clients to perform a full OAB download. To prevent this from happening, you can configure your existing mailbox databases to explicitly point to the current default OAB prior to introducing the first Exchange 2013 server. You can do this one of two ways:
Within the Exchange Management Console (EMC), navigate to Organization Configuration –> Mailbox –>Database Management –> Mailbox Database Properties –> Client Settings
During migration of mailboxes from Exchange 2010 to Microsoft Exchange 2013 CU1 you can experience mailbox size increasing on average of 30%.
This does not mean that migrating to Exchange 2013 will increase your capacity footprint by 30% per mailbox; it only means that the statistics are including more data about the space the mailbox consumes.
Exchange 2013 RTM CU1 includes a number of bug fixes and enhancements over the RTM release of Exchange 2013.
With Exchange 2013 CU1 groups can once again be owners of groups for membership management.
In Exchange Server 2013 RTM there was no way to access Public Folder content through Outlook Web App. In CU1 you will now have access to Public Folders you have added as favorites via your favorites menu either in Outlook or Outlook Web App. However, this access is limited to Public Folders stored on Exchange Server 2013.
More informations you can find on Exchange Team Blog