This post is also available in: Polish
Finally Microsoft released Service Pack 3 for Microsoft Exchange 2010.
Installation of SP3 for Microsoft Exchange 2010, will rising the Exchange version number to: 14.3.123.4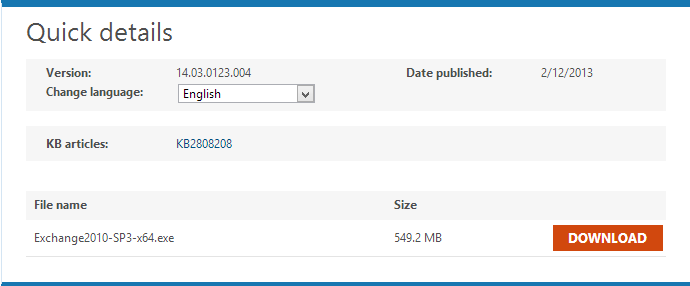 Service Pack 3 for Microsoft Exchange can be downloaded here:
And description of SP3 you can find in this KB articles KB2808208:
Microsoft Exchange 2010 SP3 description
When we install SP3 for Microsoft Exchange 2010 we can get:
Coexistence with Exchange 2013:Customers who want to introduce Exchange Server 2013 into their existing Exchange 2010 infrastructure will need the coexistence changes shipping in SP3.
Support for Windows Server 2012: With SP3, you can install and deploy Exchange Server 2010 on computers that are running Windows Server 2012
Support for Internet Explorer 10: With SP3, you can use IE10 to connect to Exchange 2010.
Customer Requested Fixes: All fixes contained within update rollups released before SP3 will also be contained within SP3. Details of our regular Exchange 2010 release rhythm can be found in Exchange 2010 Servicing
But:
Coexistence Exchange 2010 SP3 and Exchange 2013 is possible only if Exchange 2013 will have CU1 (Cummulative Update) which is not available yet.
Be advised that after installing SP3 on Mailbox servers, the databases are upgraded to the SP3 version database schema. An SP3 database can't be mounted on pre-SP3 Mailbox servers. Keep this in mind when upgrading your DAG (you will temporarily have limited fail-over/fall-back or switch-over options) or for example when utilizing database portability. Note that upgrading databases can be time consuming, especially with RTM or low SP databases as the database will be upgrade using interim steps, i.e. RTM to SP1, SP1 to SP2 and finally SP2 to SP3.