This post is also available in: Polish
The emergence of a new version of Microsoft Exchange Server 2013 introduces some changes to the Exchange environment. These changes concern both the design and administration of the servers.
Microsoft Exchange 2013 Preview can be downloaded here:
http://www.microsoft.com/exchange/en-us/exchange-preview.aspx
System Requirements
System requirements have not changed significantly in relation to the requirements for Microsoft Exchange 2010.
The new Administration Console
In the new version there is a new console to administer servers and users. This console was called the EMC (Exchange Administration Center) and replaces consoles EMC (Exchange Management Console) and ECP (Exchange Control Panel).
The new console is said to have run faster, and she also has the support to be fast in large organizations Exchange.
Compatibility with other versions
Microsoft Exchange 2013 can work with Exchange 2007 and 2010. Such cooperation is encouraged. Unfortunately, Exchange 2003 in this case we should forget because it is incompatible with the new version of Exchange.
Exchange server roles
In Exchange 2013 there are only two server roles:
Mailbox Server
Client Access Server
The server with the role of the Client Access Server should be installed in each AD Site.
Operating systems for Exchange 2013
Exchange Server 2013 can be installed on Windows 2008R2 and can be installed on Windows 2012 over which the works are still ongoing.
Contrast, the Exchange Management Tools can install additionally on Windows 8 and Windows 7 SP1
Clients supported by Exchange 2013
Preview supports Exchange 2013 support the following mail clients:
Outlook 2013 Preview
Outlook 2010 Sp1
Outlook 2007 SP3
Entouragge 2008 dla MAC, We Services Edition
Outlook for MAC 2011
RPC over HTTPS
The new version of the server will not support RPC. Communications will use RPC over HTTPS only
Improving Performance
The new version has been rebuilt to write to the database mechanism, making the process of writing and reading from the disk where the database is to speed up.
Were also rebuilt the transaction logs, which is shorter switching time bases in the DAG in case of failure the Exchange databases.
Public Folders
End of public folder databases. Public Folders in Exchange 2013 will be located in special boxes in the normal Exchange databases where there are also boxes of users. Each box designated for public folders will be kept the hierarchies and the contents of public folders.
This solution can provide high performance for public folders, because the DAG box with public folders will be subject to continuous replication as a normal email inbox.
Managing public folders will now be using the console, EAC (Exchange Administration Center), will not be required to separate utility.
OWA Offline
The new version of OWA and Exchange 2013 is designed to provide offline access through OWA. Of course, all this will depend on the support of such a solution through a web browser to use OWA.
This solution is already known from Gmail and the Chrome browser, where after installing an add-in can be viewed mailbox without being online.
MailFlow
As we have Exchange 2013 will not have the role of the Hub Transport (HT).
The flow of messages in Exchange 2013 organization is to be provided by the servers with the Client Access Server role, which will be the front end of the transport service. While servers with the Mailbox Server roles will be provided to the Hub Transport and Mailbox service Transport service.
The following pictorial diagram showing the operation of motion (MailFlow) in Exchange 2013: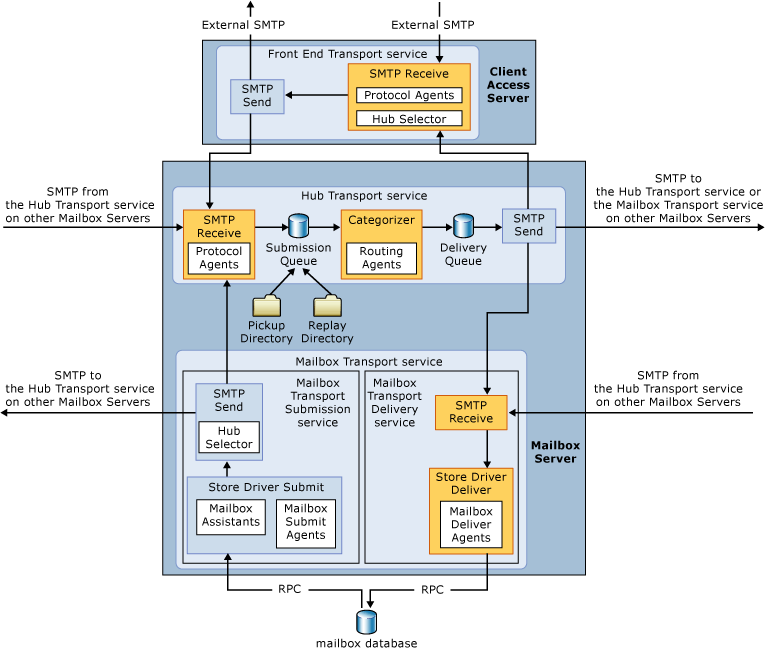 More information about the changes that brings together Microsoft Exchange 2013 can be found here:
http://technet.microsoft.com/en-us/library/bb124558(EXCHG.150).aspx