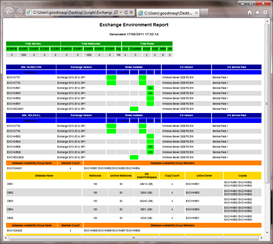 Few days ago Steve Goodman published new version of Get-ExchangeEnvironmentReport.ps1 script on his Blog.
This script is really cool, and using it you can easly create report of your Mircosoft Exchange environment. 

New version supports Microsoft Exchange 2013 and fixes bugs reported by users.
We think that every Exchange administrator should has this script.
Executing the script is straightforward – the only setting you need is to specify where to write the HTML file:
.\Get-ExchangeEnvironmentReport  -HTMLReport c:\report.html
If you want it to email the results, the follow parameters are available to allow the report to be sent directly from the script:
.\Get-ExchangeEnvironmentReport  -HTMLReport c:\report.html -SendMail:$true -MailFrom:you@example.com -MailTo:you@example.com -MailServer:smtp.example.com
Read more about this script: Steve Goodman Blog
You can download this script here: Get-ExchangeEnvironmentReport.ps1