Microsoft released also new update for Microsoft Exchange Server 2010 SP1.
It's not exactly new update, but new version of last update Rollup 7.
We wrote about Rollup 7, next Rollup 7-v2 and now we want to inform about Rollup 7-v3 for Exchange Server 2010 SP1.
This new version of Rollup 7 resolves an issue in which the digital signature on files produced and signed by Microsoft expires prematurely.
This update replaces the original KB2743248 and KB2756496 updates.
After installation of new version of Rollup 7 (Rollup 7-v3) your Exchange Server will have new version number 14.1.421.3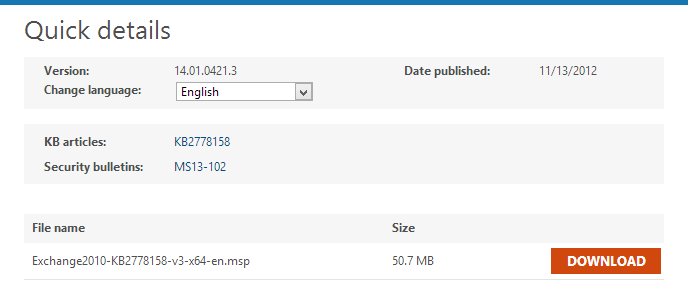 you can download this new "update" Rollup 7-v3:
 Rollup 7-v3 for Exchange Server 2010 Service Pack 1 (KB2778158)
For a list of changes that are included in this update rollup, see:
Description of Update Rollup 7 Version 3 for Exchange Server 2010 Service Pack 1