This post is also available in: Polish
Channel9 website published new Lync 2013 sessions, this time from Ignite sessions.
You can see them here Channel9.msdn.com
Below we present all modules: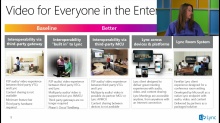 Configuring Lync Room System 50 minutes, 43 seconds
Lync Room System is a new member of the Lync family and offers a native Lync solution for meeting rooms that makes meetings easy to start, easy to manage, and easy to collaborate with remote attendees. This course introduces Lync Room System and describes how to deploy, configure, and manage it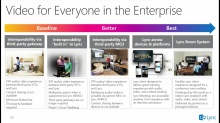 What's New in Meetings and Collaboration in Lync 1 hour, 25 minutes, 15 seconds
This course explores the latest additions in Lync 2013 related to meetings and collaboration, as well as improvements introduced in Lync updates released since Lync 2013 RTM, such as video cropping control,  Meetings View, Q&A manager, and others. It also describes forthcoming approaches…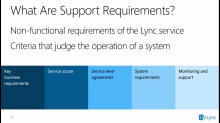 Identifying Critical Support Dependencies for Lync Server 33 minutes, 17 seconds
With customers deploying Lync Server into business critical scenarios, the success of a Lync solution increasingly depends on a series of robust operations and support procedures and practices. In this course, you'll learn about the often-overlooked dependencies that underpin a Lync Server solution,…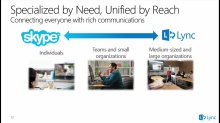 What's New with Lync 30 minutes, 42 seconds
As Microsoft transitions to a company that's building software, devices and services, product releases will adopt a shorter cycle and a rapid release cadence. In this course, you'll learn about our vision for the future of communication, how the Lync and Skype organizations are coming together, and…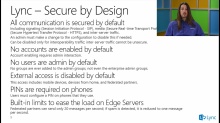 Securing Lync Deployments 49 minutes, 53 seconds
This course explores common security questions and explains how IIS ARR (Application Request Routing) and the addition of Two-Factor Authentication in the latest updates can be used to meet customers' needs for stronger authentication.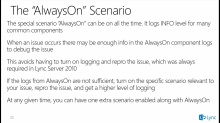 Lync Top Support Topics and Troubleshooting Tools 1 hour, 51 minutes, 23 seconds
Avoid the most common, costly, and time consuming support engagements: Lync deployments, updates, infrastructure changes, and expanding capacity/modalities often create problems that are hard to identify and difficult to troubleshoot. This course describes the most frequent issues for support…
What's New in Lync Mobile 43 minutes, 55 seconds
Mobility is a key feature of Lync Server 2013. In this course, you'll learn what's new in Lync Mobile since its first release, and how these new features enable your business scenarios. You'll see what the Lync Mobile architecture looks like and get some troubleshooting tips.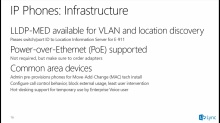 Lync Devices Strategy 39 minutes, 32 seconds
In this course, you will learn about IP phones, USB peripherals, conference room systems, PCs, gateways and video conferencing systems, which are key components you can incorporate into full-scale communications solutions.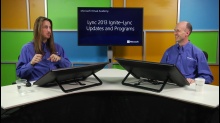 Lync Enterprise Voice Applications and Features Updates 35 minutes, 56 seconds
The Lync Enterprise Voice modality is maturing and advanced voice applications and feature components are developing. In this course you'll find out about the updates to current Lync voice applications, such as the Response Group Service and Conferencing Announcement Service, and you'll learn about…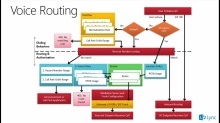 Lync Enterprise Voice Core Infrastructure Updates 1 hour, 26 minutes, 21 seconds
Have you ever needed to maintain the benefits of Lync Enterprise Voice for your traveling workers while still complying with local regulatory requirements? The new location-based routing functionality in the latest Lync update helps facilitate this requirement in your Lync Enterprise voice…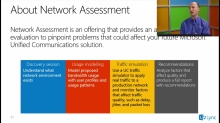 Lync Network Assessment Methodologies 30 minutes, 52 seconds
This course introduces a methodology for assessing the impact of Lync on the network. You will learn how Microsoft performs a network assessment through the use of discovery, modeling, simulation, and analysis.