This post is also available in: Polish
You can register to free Microsoft Virtual Academy Life Event about Microsoft Exchange Server 2013.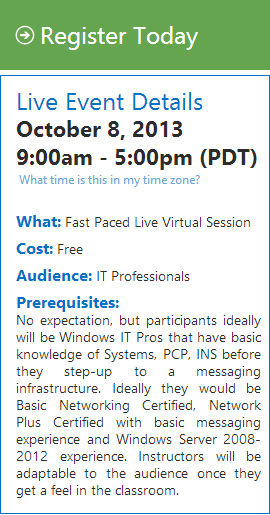 This online event Core Solutions of Exchange Server 2013 Jump Start will take place on October 8th 2013 at 9 am PDT
As a instructor team we will see :
Mike Pfeiffer – Microsoft Certified Master and Premier Field Engineer at Microsoft. He's a big fan of automation and scripting, and he is the author of the PowerShell cookbooks for Exchange Server 2010 and 2013
Jason Helmick – Jason is a 25-year IT veteran and Senior Technologist at Concentrated Technology. He's an avid supporter of the PowerShell community as board member and CFO of PowerShell.Org. He is the author of ''Learn Windows IIS in a Month of Lunches'' and contributing author to
During this session they will talk about below issues:.
– Deployment of the new Exchange roles
– Planning and managing the mailbox role
– Managing users and mailbox environments
– Managing address lists and policies
– Managing client access
– Managing mobile devices for email
– Troubleshooting message delivery
– Messaging compliance with transport rules
– Disaster mitigation and high availability
If you want to register for this session click on link below
Core Solutions of Exchange Server 2013 Jump Start – Microsoft Virtual Academy Live Event
To register you need to have MVA account, but if you don't you can easily create it.
This session will take 8h, 9am – 5pm (PDT)