This post is also available in: Polish
On TechNet Webistes we can find few movies discussing Exchange Server 2010 administration. This films series is entitled "How do I ?"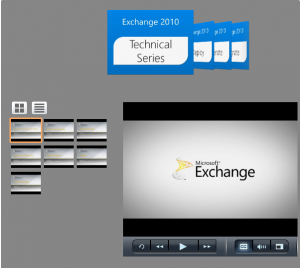 We can find there 26th movies which discussing few issues with Exchange Server 2010 environment. Movies are available in MP4 and WMV files.
Issues discussing in movies:
Exchange 2010 Deploy
Exchange 2010 Operate
Exchange 2010 Migration
other technical issues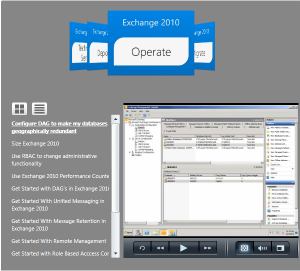 To download movies  right-click "WMV" or "MP4″ and then click "Save target as".
Below you can find list of all movies :
Exchange 2010 Technical Series
Exchange Technical Series (Information Protection and Control) Duration: 30:27; MP4
Exchange Technical Series (Outlook) Duration: 31:45; MP4
Exchange Technical Series (Outlook Web App) Duration: 32:57; MP4
Exchange Technical Series (Archiving and Discovery) Duration: 29:52; MP4
Exchange Technical Series (Mailbox Resiliency) Duration: 23:18; MP4
Exchange Technical Series (Mobility) Duration: 18:09; MP4
Exchange Technical Series (Unified Messaging) Duration: 18:40; MP4
Exchange Server 2010 Deploy
Build Exchange 2010 CAS Arrays Duration: 10:04; WMV, MP4
Create and configure certificates with Exchange 2010 Duration: 13:26; WMV, MP4
Configure Mailbox Plan Attribute Flow Duration: 3:31; WMV, MP4
Securely publish Exchange2010 using ISA Server 2006 SP1 Duration: 18:10; WMV, MP4
Use the command line to install/change/uninstall Exchange Server 2010 Duration: 7:44; WMV, MP4
Exchange Server 2010 Operate
Get Started with DAG's in Exchange 2010 Duration: 12:51; WMV, MP4
Get Started With Unified Messaging in Exchange 2010 Duration: 11:28; WMV, MP4
Configure DAG to make my databases geographically redundant Duration: 12:34; WMV, MP4
Get Started With Message Retention in Exchange 2010 Duration: 11:49; WMV, MP4
Get Started With Remote Management Duration: 11:45; WMV, MP4
Get Started with Role Based Acccess Control in Exchange 2010 Duration: 7:19; WMV, MP4
Getting Started With Archiving in Exchange 2010 Duration: 5:31; WMV, MP4
Getting Started with Message Discovery Duration: 4:47; WMV, MP4
Introduction to Exchange 2010 Duration: 17:11; WMV, MP4
Use RBAC to change administrative functionality Duration: 5:24; WMV, MP4
Size Exchange 2010 Duration: 25:18; WMV, MP4
Use Exchange 2010 Performance Counters Duration: 13:26; WMV, MP4
Exchange Server 2010 Migrate
Coexisting Exchange 2010 with Exchange 2007 Duration: 9:04; WMV, MP4
Transitioning From Exchange 2007 to Exchange 2010 Part 1 Duration: 5:16; WMV, MP4
Transitioning From Exchange 2007 to Exchange 2010 Part 2 Duration: 8:28; WMV, MP4
Transitioning From Exchange 2007 to Exchange 2010 Part 3 Duration: 4:56; WMV, MP4
All those movies you can find on TechNet website:
 Exchange 2010 "How Do I?" Videos