This post is also available in: Polish
Recently, Microsoft released Microsoft Exchange 2013 Preview which we covered in our blog.
The new edition of Exchange Server also get a new tool to manage the Exchange organization.
This tool is called EAC or Exchange Administration Center and combines the consoles ECP (Exchange Control Panel) and EMC (Exchange Management Console).
The new console is only available with the release site, so you do not need to install it anywhere, as it did in earlier releases of Microsoft Exchange, where we had to install the Management Tools.
With this move, the new console has gained mobility and allows you to manage Microsoft Exchange servers from any computer that meets certain requirements, however.

The table is available on TechNet, we can get information on what systems and browsers can run EAC:

To start EAC, open the console ECP former address in your browser.
https://<servername>/ECP/
If someone does not remember what address is set to ECP console in your environment can remember it using:
Get-ECPVirtualDirectory | Format-List InternalURL,ExternalURL
EAC window appearance and description can be found on the TechNet at this link: EAC Console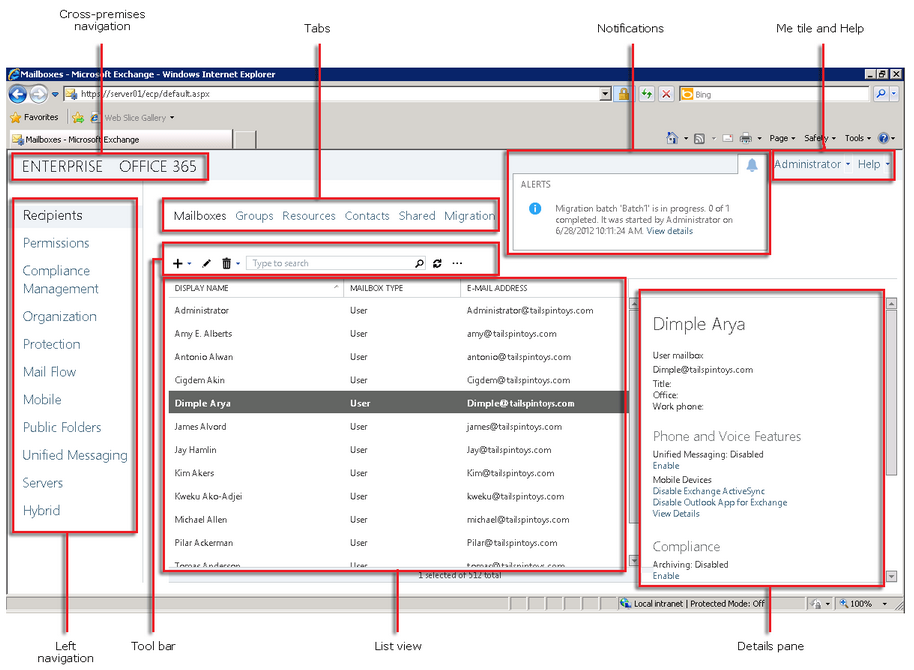 Through EAC in one place, we can manage it all we could in the two former EMC consoles and ECP:
connectors
users
certificates
DAG properties
RBAC – Role-Based Access Control
It is important to the browser in which the EAC will run the console to disable popup blocking. Otherwise, the console will not work as it should.